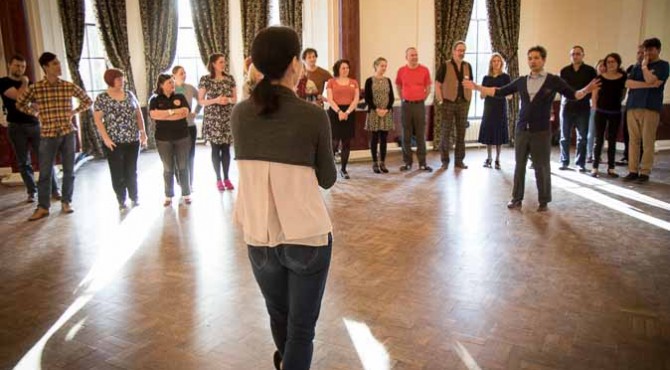 How many times have you learned an amazing new technique or move in a workshop and said to yourself: "That's incredible! That's one I'm going to keep using forever…."
As for me? Honestly? I have no idea. It's happened a lot – but I keep forgetting them. Which is a little ironic…
Too many times, I rush out of a workshop, and straight into the next one… before the first one has fully "taken" – and no matter how well taught – how great the material – it's vanished from my head. In a well-intended attempt to provide as much for its students as possible, a camp has quite simply made it much harder for me to retain what I've learned.
In other words – after decades of going to dance camp after dance camp, experiencing workshop upon inspirational workshop, from teacher after wonderful teacher…. from which I've remembered far too little… I've come to realise some key things about workshops:
An hour for a workshop is not enough.
Practice it right away, or lose it.
Recap videos are useless once you've forgotten the workshop
Small class sizes are great
For DJam 2018, we've decided to put a big focus on providing a truly transformational learning experience – so we've made some key changes to the core workshop format.
Each core workshop will last an hour and a half, so you really will have time to learn, absorb and practice the techniques and ideas that are being taught.
Each core workshop will be followed with half an hour of practice / consolidation time, so that you can make the most of what you've learned. Practice with your partner, or with others in the workshop. Work with your fellow students – they may have had insights that will help you – and you may well have insights that will help them.
The class sizes will be smaller and more intimate. This lets the teachers give a lot more personal attention to the individual students, giving them the help that they need to make the most of the material.
In this way, and by choosing some truly wonderful teachers that we love learning from, we hope to make DJam 2018 the best learning experience it can possibly be. I'm so excited for this event – and I truly hope it helps make DJam the perfect event for people that truly want to focus on transforming their Lindy Hop or Balboa, and reaching the next level in their dancing.
AJL